Two Winners at EthBoston from ATR
Advanced Telerobotics Research Laboratory traveled to EthBoston. Yes, we went there to win a few prizes. Jokes apart.
EthBoston was hosted at Harvard University, with 400+ attendees and two projects were crunched in about 24+ hours and won two sponsorship prizes which are following are:
1. Miner Adventures($1,000 – Irvin Cardenas, Xiangxu Lin, Saifuddin Mahmud), an infinite or Time scroller game (See More)
 Check out the app and winner here which is covered by Celer over Twitter.
2. Able coin($500 – Amrth Ashok Shenava and Pradeep Kumar Paladugula), a payment method for senior citizens.
Check out the link where able coins got featured on Skale Labs blog. To know more about this project (Click here)
Following is our story at EthBoston:
No sleep, more gain.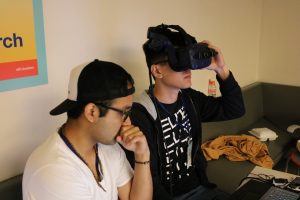 It was a memorable trip, not because we went there to have fun but in the process, we made a lot of mistakes through which we've learned a lot.                                            – Amrt
This was a wonderful experience, and we're looking forward to another win at EthWaterloo.